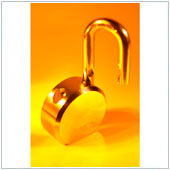 As web apps and cloud services become the standard for many consumers and businesses, Microsoft has set a goal to have all of each user's services and products connected to a single Microsoft Account. There is a big glaring problem with this however – having one account for multiple services poses a serious security risk. In order to curb the possibility of security breaches, Microsoft has recently introduced something called two-step verification to their services. Not sure exactly what that means? Today we share an overview of the two-step verification system Microsoft has recently implemented.
What is it?
If you use any of Microsoft's products, you likely have a Microsoft Account. This account is what you use to access SkyDrive, Outlook, Skype, Office and even the Xbox. The whole idea is to provide users with one centralized account for all of Microsoft's products and services.
While this is great, and means you only have to remember one username and password, it can be a security issue. (Lesson number one for internet security is to use different passwords for every account and service.) Which is where two-step verification comes in.
Two-step verification is a feature that requires an additional action, beyond entering a password, when you try to log into an account. For example, after the password is accepted, you may receive a text message to your phone with a short-term PIN that must be entered before you can access the account. If you have used your credit card at the Microsoft Store or on an Xbox in the past year, you have likely seen this feature in action. Now, Microsoft has extended it to your full MS account.
The new feature is not mandatory (yet), so you have to sign up for it. But It is a good idea to consider enabling this function, especially if you have sensitive information stored online. While this won't make your account 100% hack proof, it will drastically cut down the chance of a hacker gaining access.
How to set up two-step verification
Microsoft has made it really easy to enable this security measure.
Go to https://account.live.com/proofs/Manage and log into your Microsoft Account.
Select your phone number and Text from the drop down menu and press Next on the window that opens to receive a text message with a code. If you don't see this option, you should be taken directly to the account management screen
Enter the code that is sent to your mobile device and press Submit.
Click on Security Info under Overview.
Select Set up two-step verification followed by Next.
Pick from the options for how you would like to receive verification codes (Authenticator app, Phone, or another email account). We recommend the app, which you can download onto your mobile device.
Follow the instructions on the screen and enter the code that is sent via the option you selected above, and press Next.
Your account should now have two-step verification. The next time you log in, you will be asked to verify the login using the option you selected.
If you would like to learn more about your Microsoft Account or would like some help setting up your company for two-step verification, contact us today.
Published with permission from TechAdvisory.org. Source.