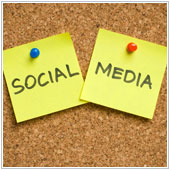 A well executed social media strategy can be a great marketing device for small businesses, and can even give small companies a way to compete with the big dogs. But what many businesses may not realize is that social media can be much more than just a marketing platform.
Below are four non-marketing uses of social media that businesses could benefit from.
Hiring
LinkedIn is a social network dedicated to helping professionals and organizations connect and find jobs and new talent. Most social savvy companies will have a presence on this network, and may even hire exclusively from the site.
If you are searching for new employees, it can't hurt to set up a LinkedIn profile and use it to recruit. To find the best talent, you need to forge and maintain connections (usually starting with people you know), and be somewhat active in groups and on message boards.
It's also important to not forget the other major networks when it comes to hiring. Tweeting a job opening on Twitter, or posting ads on Facebook could help you find your next employee. Facebook can be particularly useful because you can pay to target ads (in this case, job openings) at specific demographics.
Internal communications
Communication is an essential part of business, and most people choose to communicate using email. You have probably received emails with jokes, invitations to after work events, lunch orders, etc. that were sent out to the whole company. Such messages, and the many replies they tend to generate, can get very annoying.
Why not utilize social media for non-essential communication? Set up a Facebook group where your employees can share content, invitations to lunch or after work gatherings, interesting stories, etc. That way you can limit email to more important, business-related aspects.
Using social media for internal communication is also beneficial for companies with younger workers. Most already see Facebook, Twitter, etc. as their main form of communication, and some even feel more comfortable communicating via these mediums as opposed to speaking out in meetings. Having a group portal or Facebook page could give less-empowered employees a way to voice their ideas, and a forum for their ideas to be discussed and improved upon with feedback from others.
Learning
A common complaint of many business owners is that they have a tough time staying on top of ever-changing trends and what currently interests their customers. Using social media to connect with your customers can be a great way to learn about hot trends and new ideas.
Customer service
Social media users will often turn to their favorite site to complain publicly about a bad service or product. These complaints can have a large audience online, and reach a lot of other potential customers. But with a little effort you can turn this bad publicity into a winning situation for you. Some companies confront online rants head on by maintaining specific customer service accounts. Then if a customer complains, has an issue, or even compliments the company, they can be active and respond using that account.
Social media and the various platforms are not only great for marketing, but can be incredibly useful for other business functions. Do you use social media in a creative way? We would love to hear about it.
Published with permission from TechAdvisory.org. Source.