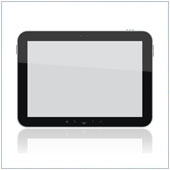 Digital technology has advanced at an astounding pace; we now have powerful computers that we can hold in our hands. Despite this, it's kind of a shame to realize that we still rely on cords to charge devices and transfer data. But if you have an Android tablet, there's an app that lets you send files from your PC to your tablet without a cord.
To wirelessly share files from your PC to your Android tablet, you can use an app called ES File Explorer File Management, which is available for free in the Google Play Store. This app does a lot more than allow you to share files from your PC. In fact it's main purpose is to access and maintain files on an Android device. There is a feature of this app which allows users to access files shared on their computer via a LAN – Local Area Network.
Here's how you can set this up. (Note: The following steps are for computers running Windows 7.)
Set up both devices
Download and install the app on your Android tablet. It can be downloaded from here.
Start the app on your device and go through the overview and brief tutorial.
Navigate to the folder on your computer that you would like to share with your device. You can also create a folder on the desktop to be a centralized place for files you would like to access on the device.
Right-click on the folder and select Add a network location.
Click Next and a screen will display your computer's IP address which you can jot down. If your computer is the only one on the network, there's no need to do this, but if you have more than one, it's a good idea to write this address down. It should look something like 192.168.1.107 – the IP will differ, depending on the network.
Set a Username and Password when you're given the option. Then click Finish. Note, if you don't set a username and password, anyone connected to the network will be able to access the folder.
Connect your Android device
Connect your Android device to the same Wi-Fi network the computer is connected to.
Select LAN in ES File Explorer on your Android device. It can be found by pressing the downward pointing blue arrow in the top-left side of the app.
Press Search on the app. It will search and display a list of devices currently connected to the LAN.
Tap the computer icon with the IP address that matches the one you jotted down above.
Enter the username and password you established earlier and select Connect.
Using ES to transfer/view files
After you have connected, you can tap on the icon again and you will be able to see the folder(s) you selected to share. To copy a file from your computer to your device:
Tap and hold the file for a second or two to get a list of options.
Press Copy to copy the file.
Navigate to /sdcard/ – by flicking to the left/right on your device.
Select the folder where you would like to place the file, and press and hold for a second until the menu comes up.
Press Paste.
If you want to move a file from your Android tablet to your computer, you can navigate to it's location on the /sdcard/ section, then press and hold to select Copy and navigate to the LAN section. Select the folder, long-pressing on it and finally pick Paste.
There are many different apps out there that can help you integrate your Android tablet to your office. If you do choose to follow this method you should be aware that it may not be the most secure way to transfer files. It would be a good idea to contact us before you try this at the office, as we may have a solution for you that could make things even more simple.
Published with permission from TechAdvisory.org. Source.