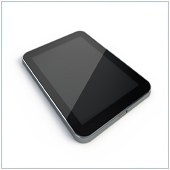 When the Android OS was first introduced, it had a lot of catching up to do and faced some seriously stiff competition in the smartphone market. Fast forward a few years and it's now the most popular OS, due at least in part to the availability of some truly excellent tablets. Many businesses and organizations are adopting Android tablets in ever greater numbers, but are still faced with one glaring problem: Microsoft Office doesn't have an Android app.
No need to worry though. Here are four apps that have stepped up as alternatives for Microsoft Office on your Android Tablet.
Kingsoft Office – FREE
Kingsoft Office allows you to open, edit, and create Word and Excel documents. You can only view PowerPoint and PDF files though. There are three versions of the app on the Google Play store: an English only version, an international version with support for 13 languages, and a simplified Chinese version called WPS. If you can read simplified Chinese, go for the WPS version, as it has a few extra features. If not, go for the normal version.
Quickoffice Pro HD – USD 14.99
This app is quick, hence the name. With it you can use your tablet to create, edit and share Microsoft Office documents, spreadsheets, presentations and PDF files. You can also access and upload documents to major cloud services like Dropbox and Google Drive. Beyond that, you can send files to other users via SMS, email, Bluetooth and social media. Note that there are two versions of this program on the Google Play store. The HD version is for tablets only.
Google Drive – FREE with 5GB storage
Google Drive is Google's cloud storage/collaboration tool. When it was released, Google Docs was rolled into this service. While this app can read Office documents, it does have problems with Office related formatting. If your company uses Google Apps, then Google Drive is the app you should be using. If you're expecting a full featured document editor, it's a better idea to look at the other options.
Documents To Go – FREE to USD 14.99
Documents To Go is a free app that allows you to view Word, Excel, PowerPoint, PDF and Google Doc/Drive files. If you download the Full Version, you can create and edit Office files and PDFs. You'll also be able to download and save Google Drive documents. There are two features that set this app apart. The first is that you can sync files from and to your Windows PC, and the second is that it has a layout that's simple to use.
These four apps each offer something different, and between them they should meet your needs. If you need help choosing one that's a perfect fit for you, please get in touch with us.
Published with permission from TechAdvisory.org. Source.