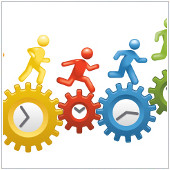 It's a fact of life. Events out of your control can disrupt your business operations. While you can't necessarily control the unexpected, you can take some precautions to prevent most business disruptions. Here are some key business continuity strategies that organizations across the globe rely on to keep their doors open.
Backup your data, applications and servers
Today, companies are more dependent than ever on IT and their business data. If these critical components suddenly become inaccessible, can your business stay open? For most business owners, the simple answer is no. This is why backing up these elements is vital to your business's success. Backing them up ensures they can be restored quickly in the event of a disaster, security breach, or damage to IT equipment.
Obviously, to ensure the accessibility of your IT, you need to backup all your data, applications and servers regularly. The keyword here being "regularly". While in the past most businesses would do this on-site and with tape backups, today more and more businesses are using the cloud. Some of the prime reasons for backing up to the cloud are as follows:
Affordability
Backups can be automated, therefore saving you time
Cloud providers usually backup your data to multiple locations (so if one of their facilities goes down, your backup is still safe at another site)
Backups can be accessed from anywhere, whether it's at an employee's home or at an alternate office
If you need to use it, backups can be restored quickly
Virtualize servers and desktops
When you virtualize your servers or desktops, they can be used at any location – be it at your workplace, home, or a coffee shop in the Bahamas. In terms of business continuity, this is useful in case your main office suddenly becomes unusable due to a disaster such as a flood, a break-in, or if you're simply unable to get there because of hostile weather conditions.
Have a backup power supply
Power outages essentially zap all your employees productivity. No electricity means no work. And that means you're paying them to do nothing. Having a backup power supply like a generator will ensure that when the electricity goes down, your employees can continue working. A good solution is an uninterrupted power supply (UPS). When you have this, a power outage will not affect your employees ability to work. They can work seamlessly through it, as if nothing ever happened. Also, if you have a server room, the UPS will ensure your vital servers stay cool.
Utilize social media
Whether it's Facebook, Twitter or Google +, most people are on at least one social network these days. And if there is any kind of weather-related disaster, social media is usually one of the first places customers, colleagues, staff and vendors will check to see the status of your business. This is because even if the phone lines or local power goes out, social media is usually accessible. So when it comes to business continuity, have at least one active social media account you use to keep your customers and followers informed.
Implement Unified Communications
Unified Communication (UC) can essentially create a virtualized communication infrastructure. That means instead of your communication tools – like phones, instant messaging, video calls – all being stored locally at your workplace, you can access them anywhere. So for whatever reason if your office is inaccessible, employees can still use your phones and other communication tools from their homes. What's more, UC tools can route business calls to your employees smartphones. That means they'll never miss an important call, even if they're not in the office.
So there you have it, five tools to ensure your business operates continuously no matter what comes your way. If you'd like to implement business continuity technology in your business or develop a continuity plan, we're happy to help.
Published with permission from TechAdvisory.org.
Source.