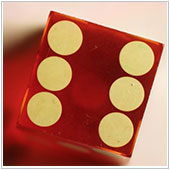 A Business Continuity Plan or "BCP" is the strategy and action of preparing your business for disaster and ensuring that important business functions are still available during a crisis. While these contingency plans are vital and are being adopted in increasing numbers, many businesses still struggle to create a strategy that will actually work effectively.
Here are six tips to help make sure that your business continuity efforts will work.
1. Know your risks
When creating a business continuity plan, or updating existing operations, it is a good idea to step back and as a group – with key staff – identify and catalog all possible risks to your organization. It's important to include risks from both within and from outside the organization. No risk is too small, even if it is an issue that could only affect one person or department.
You should also try to detail the consequences and what could happen should these defined risks come to fruition. This will give you a better idea of areas that need to be improved and potential problematic systems or positions. From here, you can also better develop a more solid plan that has a higher chance of succeeding.
2. Ensure your plan matches your business
Because business continuity planning can be complex, many small businesses prefer to use ready made plans and templates. The problem here is that they may not provide exactly what you need. Most of these templates are fairly general, and while we aren't saying you shouldn't use a template – they can save time and money – you need to be sure that you either find a template that comprehensively covers your business, or take the time to adapt it to fit your needs.
Pay close attention to how the plan fits in with your company, the scale of your company compared to the plan, available resources, where you work and how your employees work (remotely, onsite, both, etc.). If these details differ from the template or current plan, you should take steps to modify or update your strategy so that it meets your needs.
3. Be sure that all staff members buy in
It should be pretty easy to get the staff members with whom you work closely to buy into a business continuity plan, especially if you recruited their help in modifying or creating the plan. The challenge will be to get upper management and other stakeholders to become aware of the plan, how it will work, when it is to be activated, and ultimately to gain their support.
One way to do this is to have a signoff sheet where all managers and key employees sign their names to ensure that they understand and support the plan. If you have holdouts, work with them to figure out what aspects of the plan they disagree with and find out if they have a better plan or alternative solutions to bring to the table. Make sure to keep an open mind.
4. Keep your plan up to date
A common mistake that is made is to develop a great continuity plan, but then not update it. Business environments and potential threats are continually evolving. A plan that was workable five years ago will likely not fully meet your needs today.
For your business continuity plan to remain viable it should be reviewed and updated on a yearly basis, or when a big change occurs in your business. Be sure to pay attention to employees who have changed roles or left the company, any new systems that have been introduced and those that have been retired, and any changes to the core business
5. Communication is key
Communication is crucial to the success of any business. In order to have a continuity plan that actually works, you need to have clear communication with all staff members, and they each need to know not only their roles but who they are to report to and what they are to do if they are unable to reach the office, for example.
It is also be a good idea to communicate with those outside of the business who could be affected by a disaster that impacts your company. Generally, all parties involved should know and have access to the plan and be informed of updates or changes. Employees should also see how disasters might affect not only the company and their individual role in it, but people outside of the organization as well.
6. Practice
Think of any professional athlete. They didn't get to where they are today by sitting around and not doing anything. They practiced their sport and took note of what areas needed improvement, then went and worked on their game. The idea here is that you should practice implementing your plan on a regular basis. The timing depends on your business and the propensity to danger. If you have defined a high amount of risk to your organization, it is a good idea to practice implementing the plan once every two to three months. Most organizations should be fine with twice a year.
After each practice, teams should get together for experience sharing to talk about what they noticed worked well and what needs to be improved. Then changes can be implemented and the plan evolved.
If you are looking to integrate a business continuity plan, or improve on an existing plan, contact us today to see how we can create a viable, workable solution that will minimize the negative impact on your business.
Published with permission from TechAdvisory.org.
Source.