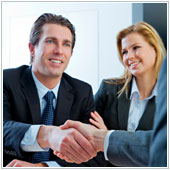 There's no question that professional organizations and companies of all sizes are finding value in the use of social media. It's the new way to communicate and create rapport with customers. Each social media service has it's unique uses and benefits, but the one that is most business-oriented has seen slow adoption by SMBs. This service – LinkedIn – is a great tool for businesses to connect, on a professional level, with the world at large.
Here are four reasons why your business should have a presence on LinkedIn.
You have more than 1 employee. LinkedIn allows you create a "profile" for your company that gives you a place to share information about what you do and how you do it. Looking for a great place to network with other small and medium size businesses? Currently there are over 1.5 million businesses on LinkedIn that indicate a company size of either 1-10 or 11-50 employees. Add into this the ability to filter companies by industry, location and relationship and you have a powerful search tool that can help you stand out and connect locally.
You want to connect with your peers. While Facebook provides a great tool for connecting with nearly everybody, LinkedIn is much better for connecting to colleagues and peers. You may find that these people are constantly sharing topical information and starting discussions that could be of great use when you're working on a problem, or need advice.
You are hiring. LinkedIn is one of the best job boards for mid-level and higher professionals. If you have a job opening, you can post it on the site, and people connected to you and your friends can be recommended for the job. You can also target the posting at professionals whom you want to apply. No more having to wade through stacks of unqualified candidates.
You don't want to deal with games, links to cat videos, and senseless sharing. LinkedIn is a professional network, and as such, there aren't many time wasting features. If you haven't bought into, or are tired of notifications about games or other activities, LinkedIn is a great alternative. Just be warned, you won't connect with your customers on a close basis like you may have with other networks.
If you feel it's time to get going with LinkedIn and would like to know more about the process, please contact us.
Published with permission from TechAdvisory.org. Source.