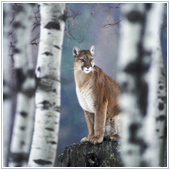 Free stuff is always good, but it's even better when it improves things that you already own. Apple – a company widely known to be at the higher end of the pricing spectrum – has released a new version of OS X – Mountain Lion. While the majority of users will have to purchase it to upgrade, there are a number of users who can upgrade for free.
The price to upgrade to Mountain Lion from an older version of OS X is US$19.99, and it's available to purchase and download from the Mac App Store. However, if you've bought a new Mac anytime between June 11 and July 25, 2012, you can receive Mountain Lion for free. New Mac's purchased from July 25 onwards shipped with an older version of OS X, and owners of these machines will have 30 days to upgrade to Mountain Lion for free.
This scheme is called Up-to-Date and is not heavily advertised by Apple, making it little known to Mac users. To upgrade, just gather an electronic copy of your sales receipt (you get these if you buy the computer from the Apple store – online and brick and mortar – or resellers) and the serial number, log on to Apple's registration site and fill in your details. This doesn't just apply to users who bought a new Mac; users who purchased a refurbished Mac are eligible as well.
If you'd like to know more about Mountain Lion and what your business can do with it, please contact us.
Published with permission from TechAdvisory.org. Source.