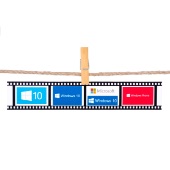 Microsoft is making it easy for any user to download Windows 10 from its website. This is helpful for those who want to burn it to a DVD for future use, upgrade compatible PCs, and install a clean copy. In this post, we will walk you through the different methods of downloading and installing Windows 10.
Method 1: Download Windows 10 from Microsoft's website
The Media Creation tool makes it easy for you to download the Windows 10 ISO file for future use, or for saving to a DVD or USB flash drive as an installer. Head over to the Windows 10 download page and click Download tool now.
When your download is complete, double-click the file and click Yes if a User Account Control (UAC) prompt appears. The tool will show you two options: Upgrade this PC Now or Create installation media (USB flash drive, DVD, or ISO file) for another PC. Click on the second option and click Next.
Select the language, architecture, and your preferred Windows 10 edition. You can also choose Use this recommended option for this PC. Next, you will be presented with two media options: USB flash drive or ISO file. By choosing the former, you will be able to create a bootable USB drive. The latter, meanwhile, will download a file that you can use to install the OS later. The ISO file can also be burned to a DVD.
Method 2: Download Windows 10 from Microsoft's website on Mac, Linux, and Windows XP computers
The Media Creation tool only works for PCs running Windows 7, 8/8.1, and 10, but you can still download the Windows 10 ISO file on Microsoft's website. Pick your preferred Windows 10 edition and architecture, and an ISO file will begin downloading on your computer.
You can save the ISO file to a flash drive to install on a different computer. You can install Windows 10 on Mac, Linux, and Windows XP/Vista PCs, but you have to purchase a license key from Microsoft to activate the OS.
Method 3: Install the Windows 10 ISO directly on your Windows 7/8/8.1 PC
If you're running Windows 8 or newer, you can easily install the Windows 10 ISO by mounting it. Double click the ISO file, and Windows will read the file as though it was a DVD.
From here, you can double-click setup.exe to launch the Windows 10 setup. This will replace your current Windows version with Windows 10. All the necessary files from the ISO will be copied to your computer, which will eventually restart to complete the installation.
If you're using Windows 7, you will need to download ISO mounting software such as UltraISO and WinCDEmu. As soon as you have installed one, you can follow the aforementioned steps to upgrade to Windows 10.
No matter your business setup, there's a way for you to download and install Windows 10. Should you need help setting up Windows 10 for your organization, we'd be more than happy to assist you.
Published with permission from TechAdvisory.org.
Source.