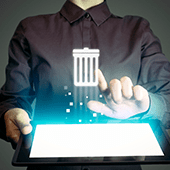 Smartphones hold sensitive data such as financial information, confidential emails, and contact details that you wouldn't want falling into the wrong hands. To wipe data from your old phone, do the following:
1. Encrypt your Android phone
Ensure that strangers don't have access to your private data by encrypting it to make it unreadable. Newer phones usually encrypt data by default. But if you're unsure about yours,  double-check to avoid regrets later.
Go to Settings in your phone and search for Encryption. Where you'll find that depends on the phone you're using, but it should be easy to locate. Once there, you'll see whether your device is encrypted or not. If it's the latter, start the encryption process. This normally takes an hour or more, and you can't use your device during that time.
2. Remove the SIM and storage cards
Now that your data is encrypted, remove your SIM card and external memory card. Both are linked to your identity and contain sensitive information so don't let them out of your sight. 
3. Perform a factory reset
You can now start the actual data wiping process. Under Settings, look for Backup & Reset and go to Factory Data Reset. This is where you can remove data and accounts from your phone. You will be asked to verify your fingerprint, or input your password, pattern, or PIN before starting the process.
4. Sever ties to specific websites
The final step is to manually remove your old device from Google and other websites it is associated with. Go to the concerned sites, choose your device, and remove it from the list of Trusted Devices. Don't forget your password manager and multi-device authentication apps; sign in to those and close any connections there as well.
As long as you follow these four easy steps, you can safely get rid of your old mobile phone. For those who are still worried about their data, give us a call. We'll protect your files from prying eyes and give you valuable tips to secure your Android device.
Published with permission from TechAdvisory.org.
Source.