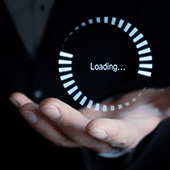 It's absolutely necessary for your business to update Windows 10, mainly for the security patches that will protect your business. Updating basically puts your computers on hold, but this is much much better than hackers exploiting gaps in unpatched systems. Need to speed up the waiting process? You can with these tips!
Why do updates take so long to install?
Windows 10 updates take a while to complete because Microsoft is constantly adding larger files and features. What's more, internet speed can significantly affect installation times, especially if your network is overburdened by multiple people downloading the update at the same time.
If multiple downloads aren't being attempted and you still experience slowness, then either some broken software components are preventing the installation from running smoothly, or apps and drivers that run upon startup are likely to blame.
When you experience any of these issues, try the following:
Free up storage space and defragment your hard drive
Because many Windows 10 updates take up a lot of space on your hard drive, you need to leave enough room for them. First, try deleting files and uninstalling software you no longer need.
Then, you'll also need to defragment your hard drive, a process that organizes data on your hard drive so it can read and write files faster. It's quite an easy process. Press the Windows button and type "defragment and optimize drives". Select the hard drive, click Analyze, and if the drive is more than 10% fragmented, select Optimize.
Run Windows Update Troubleshooter
Software components may also cause installation problems. Run the Windows Update Troubleshooter and it might just be the solution to the issue, and decrease download and install times.
Disable startup software
Before your update begins, disable third-party applications. They can potentially cause disruptions. To do this, press the Windows button again and type "msconfig". In the System Configuration Window, go to Services, click Hide all Microsoft services, then click Disable all. Afterwards, access Task Manager (press Ctrl + Alt + Delete) and disable any startup program that might interfere with updates like an Adobe app or printer software.
Optimize your network
Sometimes a faster connection is all you need. Consider switching to fiber optic cables or purchasing more bandwidth from your internet service provider. It's also a good idea to use bandwidth management tools to make sure enough network resources are reserved for things like Windows 10 updates, not bandwidth hogs like Skype or YouTube.
Schedule updates for low-traffic periods
In some cases, however, you may have to accept that certain updates do take a substantial amount of time. So schedule them for after hours when you're not using your computers. Simply go to the Windows 10 update settings and specify when you prefer updates to be installed.
If you need help with any of the tips above, we're always here to help. Call us today to meet with our Windows specialists!
Published with permission from TechAdvisory.org.
Source.