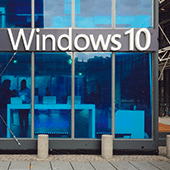 With the release of the Windows 10 Fall Creators update, users received an array of new features and improvements, including a streamlined Edge browser, UI design changes, and enhanced security features. But Microsoft isn't done — they recently released new features for Windows 10 Insiders, too.
Sets
Sets takes the tab features from web browsers and adds them to various Microsoft apps, including Word, PowerPoint, OneNote, and Outlook. This reduces how many windows you have to have open.
For example, if you are working on a Word document and you need to research a particular topic, you can create a new tab, open Edge, and start surfing. The new tab page also gives you quick access to local files and Office 365 applications provided you have a subscription. This saves you from having to manage multiple windows since all the apps and websites that are relevant to your work are in one place.
And when you press save, Sets bundles your apps and research into a single file, allowing you to revisit relevant material.
Timeline
Speaking of revisiting material, Timeline displays apps and files you were using at a particular time so you can easily resume past activities.
What's more, this feature works across all Cortana-enabled devices, which means you can switch from your desktop to your phone and access the same files you were previously working on. Cortana even suggests activities you might want to resume as you switch between devices.
To try Timeline, access Task View by pressing the Task View icon in the taskbar or hitting the Windows logo key + TAB. From there, you'll be able to see recently accessed apps and websites and reopen them. There's also a "See all" option that lets you view everything you've done in a single day, organized by hour. If you're looking for a specific app, you can always use the search bar.
Windows 10 Insiders
Unfortunately, Sets and Timeline are not yet available to the general public. But if you're interested in trying out these features for yourself, you can sign up for the Windows 10 Insider program.
Not only will you get these features, but you'll also be one of the first to receive the latest updates Microsoft has to offer. You even get the opportunity to give feedback about new features, which helps improve Microsoft's apps and services.
Want to be the first to know what features Microsoft will release? Call us today! As an experienced managed services provider, we're tuned in to the most recent tech developments, whether they come from Microsoft, Google, or other industry leaders.
Published with permission from TechAdvisory.org.
Source.