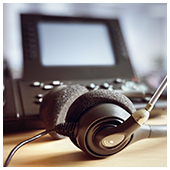 Your business can rely on hosted VoIP (Voice over Internet Protocol) service providers to ensure internet connection is always at maximum speed. But a fast internet connection doesn't necessarily result in excellent VoIP call quality. When expectations fall short, business owners can get very frustrated and resort to upgrading to a fiber optic connection until the desired quality is achieved — this may end up costing more. What can help is a dedicated circuit.
Landline versus VoIP calls
Landlines use 'circuit switching,' a method of connecting two or more parties via a dedicated channel, which ensures that the connection will be maintained throughout a call's duration. On the other hand, VoIP calls do not require the same dedicated channels as landlines to function.
VoIP calls work by taking analog audio, converting it into digital data, and transmitting them via the internet in a process called 'packet switching.' Because transmission of data over the internet can be affected by traffic issues, VoIP calls without a dedicated connection may be choppy or delayed.
How does a dedicated circuit improve VoIP call quality?
With a dedicated circuit, you'll have a designated line that connects your organization's on-premises phones to your hosted VoIP provider's off-site servers. Having this setup simply means your users will be able to make phone calls over a private bandwidth that's not shared with other users.
When you use a dedicated circuit, you are bypassing the public internet. To do this, a VoIP provider uses Multiprotocol Label Switching (MPLS) technology, a system that enables them to control the causes of poor VoIP call quality — latency, jitter, inadequate router, and packet loss — and ensure clearer, landline-quality calls.
Ideally, your hosted VoIP provider could offer this specialized service. Not only is a dedicated circuit setup cheaper than getting a separate connection intended only for VoIP, but it also reduces the workload of your IT staff because they would have to manage only one internet network.
VoIP providers' well-kept secret
Although a dedicated circuit solves businesses' call-quality woes, it's a highly specialized service that only a few providers offer. In fact, many providers wouldn't offer it upfront because configuring a circuit requires greater effort on their part. However, there are providers who would be happy to customize your VoIP settings without additional charges.
Internet telephony is fast becoming the default choice for business communications because they're multi-purpose, technologically advanced, and cost-effective. Businesses can't afford to stick to legacy phone systems if they want to stay competitive. Get in touch with us to explore a vast variety of VoIP options for your company.
Published with permission from TechAdvisory.org.
Source.