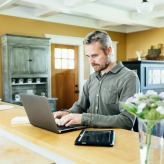 Telecommuting can be a great strategy that allows businesses to save money and retain valued employees. It is quickly becoming a viable option for those that are looking to cut back their hours at the office while still being able to work productively in the comfort of their home. But despite the many advantages telecommuting presents to business owners and staff, there are certain challenges to be faced and overcome. Take a look the following tips to be super productive in your home office.
One of the major concerns that business owners have when allowing people to work from home is the limited amount of control they have over their staff. Companies fear that most employees might become unproductive if they become their own boss and are responsible for managing their own hours. While it is easy for remote employees to feel disconnected from work, if you make communication a top priority, telecommuting can actually work wonders.
So have you been given the privilege to work from home? Check out the following tips to ensure a productive day.
Get dressed
It's important not to dress too casually when working at home. That's why wearing your pajamas while working can be counterproductive. There's no need to choose an overly formal attire – like a suit with a tie – but at least wear something comfortable yet presentable that will help you get into a work frame of mind.
Create a focused workspace
Select a workspace that's neither too comfortable nor uptight. The best method to get into the mindset of 'going to work' is to create an environment that allows you to easily focus on the tasks at hand. This can be a room with a door to keep out family members, or simply a space that's free from all sources of distractions such as your smartphone, snacks, or the television. But in the end, it all comes down to personal preference – do you enjoy working in a clear space, or a cluttered chaos? Would background music distract you or help you concentrate? Do you like working in a bright environment, or prefer a dim area? Take these into consideration before choosing your workspace.
Plan ahead
The secret to working more productively is to have an organized plan of action. Write down the plan so you can prioritize tasks properly and schedule what needs to be done and when it must be completed. Also, it's always helpful to know your most productive hours. This is so you can schedule your most challenging tasks during those hours and set aside easier ones in your least productive periods.
Stay away from social media
Social media is considered by many as the biggest time and productivity killer. So if your duties don't involve managing your company's Twitter account or responding to customers' requests via Facebook inbox, you should steer clear from these social networking sites. There are many applications out there that allow you to block social media websites and notifications, but of course you wouldn't have to resort to such measures if you can exert some self-control and discipline.
Invest in technology
Another thing to consider about working from home is the technology to help you work easier, such as a second monitor. Sometimes you will also need certain tools to stay connected to your company, clients, and colleagues. These tools may include but are not limited to web conferencing software, document sharing applications, or screen sharing programs.
These tips will turn your home into an office that will keep your working hours productive and disciplined throughout the day. If you're looking to implement IT solutions that will encourage a more productive work environment, get in touch with our experts today.
Published with permission from TechAdvisory.org.
Source.