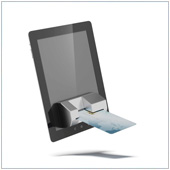 Small to medium businesses, like restaurants, fashion boutiques, salons, and service-based businesses are constantly looking for ways to minimize expenses. One way to do this is by implementing a mobile payment solution. This form of payment is set to take off in the coming months, especially when you take into account the number of new systems introduced and available already.
What exactly is mobile payment?
Most people would define mobile payment as either using your mobile device as a wallet, or using mobile devices to accept payment. Many services allow users to link credit cards to their mobile device and simply scan it over a pay terminal to have their account charged.
Companies on the other hand usually pay a set per-transaction fee in order to use the system; something along the lines of, or slightly cheaper than, most credit or debit-based payment terminals.
If you are considering switching over, here is a brief overview of the most common payment solutions.
PayPal
In late September Internet auction giant eBay announced that they will be spinning off their popular Internet payment system PayPal sometime in 2015. While many users will utilize PayPal to pay online, there is actually a mobile payment solution called PayPal Here, which is expected to grow immensely.
With Here, you get a payment solution app with a card reader that plugs into most smartphones (Android, iPhone, iPad, Android tablets) and allows you to accept multiple types of payment from anywhere you have an Internet connection. You can even track cash payments and record checks.
Vendors can use this app free of charge, however they are charged a 2.7% per swipe fee, based on the amount of the transaction.
Apple Pay
Apple Pay is Apple's recently announced mobile payment system that utilizes NFC (Near Field Communication) on the iPhone 6. Users with an iPhone 6 will be able to link their credit cards to their phone and then will hover their device near a terminal and press their thumb on the device's fingerprint reader to pay.
Your payment information (an account number linked to your card. Apple has noted that actual card numbers are not stored) is stored in the Passbook, and will be accepted at an initial 220,000 stores in the US when it launches sometime in October. There is a good chance that small to medium businesses will be able to integrate this solution into their business in the near future, so it would be a good idea to keep an eye on this.
What is interesting is that many banks have announced that they are considering accepting, or will accept Apple Pay as a method of payment. This means that businesses with an existing NFC payment terminal – which is often provided by a bank – should be able to accept payment (if the bank does of course).
Rumors have it that merchants will not be charged a transaction fee to use this service; details will be solidified when the system goes live.
Square
Square is arguably the most popular, or at least the most well known, mobile payment system. With a card reader that is compatible with most popular mobile devices (Android, iPad, iPhone) users can set up a whole Point of Sale system via the Square Stand and accept a wide variety of payments.
To use this solution, you need either the card reader (which is free) or the Square Stand (which costs around USD $99). For each transaction there is a fee that starts at 2.75% for credit and debit cards.
Amazon's Local Register
Introduced in mid August, this new card reader is aimed at both PayPal and Square solutions. As with these, there is a card reader that can be plugged into most devices (Android, iPad, iPhone) and an app that goes along with it. Businesses with the reader can then use the device to accept payment.
Where this solution differs is that the reader costs USD $10 to purchase. That being said, the USD $10 is refunded towards your first transaction fees upon signing up. The transaction fees are also quite a bit lower. For businesses that sign up before October 31, 2014, there is a flat rate of 1.75% per swipe until January 1, 2016. Any business that signs up after this date will pay a flat rate of 2.5% per transaction (based on the total transaction amount).
Google Wallet
Google Wallet is a hybrid mobile and online payment solution that allows users to add credit cards to their wallet and pay for things either online, or at stores with NFC payment terminals (also called contactless terminals).
While most users who have made a purchase on Google Play, or have used their Google Account to make a payment have used Wallet, this hasn't been the most popular of solutions when it comes to customers using it to pay in-store. The reason for this is because there are only a limited number of devices with the required NFC radio (two to be exact). This system is also currently limited to the US only. Customers around the world can use Google Wallet to pay online however.
There is a good chance that with the recent new announcements and upcoming mobile payment products, Google will be pushing this out to more devices in the near future.
There are other mobile payment system options available, so it is a good idea to contact us before you implement one. We can help you not only find a solution that works for your business, but ensure that it can be integrated into your existing systems.
Published with permission from TechAdvisory.org.
Source.