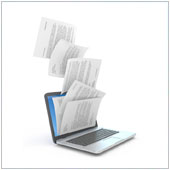 The PDF, short for Portable Document Format, is the go-to file type for those times when you need a document to be accessible by anyone, on nearly any machine or device. PDF's allow users to save documents and files with the layout and formatting intact, in a format that can be viewed as-is by other users on nearly all systems. For instance, we often save final versions of Microsoft Word documents as PDFs.
Here's how you can save Microsoft Word documents as PDFs.
Saving a Word 2010 document as a PDF
Create and format the document as you would like the reader to see it if it were to be printed.
Click File followed by Save As.
Enter a name for the file in the Filename box. Be sure the name is easy to read and understandable. Unintelligible text or numbers will decrease the chances of the file being opened, and might cause problems passing through spam filters if emailed.
Click on Save as type and select PDF.
Select either Standard (for print and publishing online) or Minimum (for publishing online). Choosing Minimum means that the file size will be smaller and thus easier to work with online, but the resulting document resolution will be a little grainier.
Click Save.
Saving a Word 2013 document as a PDF
Create and format the document as you would like the reader to see it if it were to be printed.
Click File followed by Export.
Select Create PDF/XPS from the menu that opens.
Click Publish.
Word will create a PDF copy of the Word document and by default, save it to the same folder the document is in.
Things to remember when creating PDFs from Word documents
They are not meant to be edited. Because PDFs capture the formatting and layout of a document, they should be considered "final" versions. As such, they will be fairly hard to edit after the fact. Ensure that the document is exactly what you want and is error free before creating a PDF.
The simplest way to edit. The easiest way to edit the outputted PDF is to edit the original Word document and then re-save it as a PDF. You can even use the same name, just confirm that you would like to overwrite and replace the existing file. If this file has been uploaded to a website, re-upload it to ensure the correct version is online.
You can open PDFs and convert them to Word documents. To do this in Word 2013 select File, Open and select the PDF you would like to open. This should convert the document and open it with all images and content. Beware that formatting may be off or inconsistent and will likely need some work to make it readable or presentable.
Be sure to open and check the PDF before sending. Take a look for any formatting issues or problems with spacing and layout. The file should look exactly the same as the Word document.
Published with permission from TechAdvisory.org.
Source.