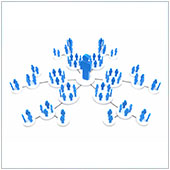 Social media services give businesses unprecedented ability to connect with their current customers. If used wisely, social media can also help you find new ones. LinkedIn is a social network that is largely aimed at connecting professionals with their colleagues, but it can also be a valuable tool to help you find potential customers.
While most businesses have a LinkedIn profile, the personal profiles of business owners, managers, and employees can say a lot about a company and either boost or weaken the overall corporate impression. Think of your LinkedIn profile as not only representing you, but also your business.
Here are five tips on how you can better connect with your potential customers on LinkedIn.
1. Be easy to find
The problem with many individual profiles is that they are set up with keywords that the users feel will make them look better. For example, many small business owners will use the word 'Owner' in their profile. This is a good idea, but it's likely this isn't what your clients or potential customers are looking for. For instance, if your company specializes in "fixie" bikes, you can bet that your clients aren't looking for "owners"; they are probably looking for "fixie bike shops."
When optimizing your profile and trying to figure out which keywords are best to use, try thinking like your customer. What keywords would they use to find you or your business? If your profile currently doesn't show up near the top in search results for specific keywords, try using different ones that you think potential customers might use. This will make your profile easier to find.
2. Provide a reason to connect
Did you know that you can put headlines in your profile? These appear below your name and are meant to provide a summary of what you do, and why people should connect with you. This is a great space where you can drive interest in you and your business, so create an attention grabbing headline.
The best headlines briefly explain what you do, and also include one or two keywords, along with the local area you work in. For example, if you are a small business consultant in Missoula, Montana, an attention grabbing headline might read something like, "I am a certified small business expert who helps businesses in Missoula grow, and achieve greater returns on investment."
It is beneficial to have a professionally-produced profile picture. After all, LinkedIn is all about business. If you have a fun, or goofy picture, you may be turning off prospective clients, so it's a good idea to keep your image as professional as possible. That doesn't mean that you can't inject some individuality into your profile, but just be careful not to highlight any potentially off-putting quirks.
3. Write a good summary
All LinkedIn profiles give you the option to write a summary about yourself. Many professionals use this space to talk about themselves and their achievements. This may seem like a good idea, but the whole point of social networking is to connect with other people, or help them. You should use the summary to explain what sets you apart from the competition, and how you can help the reader with their needs.
You can still list some of your experience here, as long as it makes you stand out. For example, 15 years of experience in managing a department is nothing to sneeze at, and you can use this to your advantage by saying something like, "With over 15 years of experience in managing the finance department of a growing small business, I have worked with many clients to help them improve…"
At the end of your summary, include a call to action suggesting that those who are interested get in touch with you.
4. Network
LinkedIn is a social network, and many users seem to forget that. A large, and arguably important, part of the platform is networking. This is how you increase your connections, and it does require a fair amount of work and input.
LinkedIn offers a ton of great groups and channels, many of which will fit your experience and skills. Take the time to join these groups, and interact with the other members. If people have a question that you can answer, go ahead and do so, and be sure to post your own ideas and content as well. Over time, you will come to be seen as a reliable resource, and if you start connecting with members, you will find your network grows.
Another way to develop your network is to add clients who have contacted you, or with whom you already work. These contacts can be a great way to spread your network, and if you approach them at the right time, may even provide valuable testimonials.
5. Follow up
As with anything in business, follow up is crucial. When you make a new connection, either on LinkedIn or in real life, be sure to connect with them in a timely manner. Once you have connected, a follow up message sent within a couple of days might be worthwhile.
The key is to be consistent. If someone asks you a question, and you don't reply, you can lose a bit of influence with them. Taking the time to reply will go a long way in creating valuable connections.
If you have a LinkedIn profile and would like to learn more about how to leverage it, please contact us today to see how we can help.
Published with permission from TechAdvisory.org. Source.