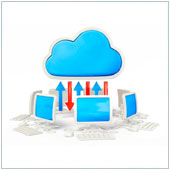 The 2013 version of Office 365 was recently released and many businesses have already upgraded to the new system. Among the many new features and "bells and whistles" is SkyDrive Pro. SkyDrive has garnered a lot of interest in the business world, but many people aren't yet familiar with the product and exactly what it offers.
SkyDrive is Microsoft's online cloud storage service. Users can create, edit, share and store all manner of documents, including those from Office programs. SkyDrive Pro is the business oriented version of SkyDrive.
According to Microsoft, "SkyDrive Pro is your professional library – the place to keep your work documents and other files." Using either your company's SharePoint server or SharePoint Online, your files are synced and stored in the cloud. This enables you to easily share them with colleagues, access them from mobile devices, and work on files offline.
Your files are stored in what Microsoft calls a Library. Think of this as a virtual hard drive. You add and access files and folders in the same way you do with a normal hard drive, only the info is online instead. You can access your Library by logging into Office 365 using your browser and clicking on SkyDrive (in some cases SkyDrive Pro may be labeled simply SkyDrive).
How to set up desktop syncing with SkyDrive Pro
SkyDrive Pro allows easy access to your files by syncing from your desktop to the cloud. If you have a version of Office 365 installed that includes Office 2013, you should already have access to SharePoint Pro. In fact, it should already be installed on your computer.
Before you try to set up desktop syncing, it is a good idea to check with your system administrator to ensure that SkyDrive Pro syncing has been enabled and downloaded. Then, you can set up syncing by following these instructions:
Click on Start and search for SkyDrive Pro. It should be found in the Office 365 folder.
Launch the desktop app. You should see a window pop-up asking which Library you would like to sync. Don't enter anything here unless your IT partner has provided you with a specific IP address.
Open Office 365's Web portal on your browser and click on SkyDrive.
Click Sync in the top-right of the Office 365 window in your browser.
Select which library you would like to sync with your desktop and click Sync Now.
The PC based application you opened in step two above should automatically start syncing. It may ask you to log into Office 365, and after you do so, you should be able to access your online Library from your desktop.
By default, the Library will be placed in your Favorites folder which can be accessed by opening any folder and looking to the left, under Favorites. You can drag and drop files into and out of the SkyDrive Pro folder, and they should upload and sync to your account.
If you would like to learn more about using SkyDrive Pro or any Office 365 program please contact us today.
Published with permission from TechAdvisory.org. Source.