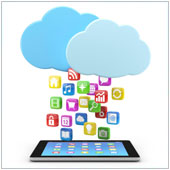 More and more business owners and managers are discovering that the iPad fits well into their day-to-day operations, mainly because of the wealth of apps that have been developed. One app that offers great potential for business users is "Documents" from Readdle. Documents acts as a central platform that connects with cloud storage providers like Dropbox, Box, iCloud, and Google Drive, to allow iPad users to keep their multiple services organized.
What exactly is Documents?
Documents is an app that enables users to manage their various cloud services. The app also allows users to view Word documents and PDFs, listen to music and watch video stored on various services directly within the app.
The functionality doesn't stop there however, as you can also copy files from one service and move them to another directly in the app. No more having to download files from one and upload to another. You can also use this app to save web pages for reading at a later date, which could be useful if you are going to be away from data or Wi-Fi for an extended period of time.
There is one downside to the app. It is read-only. You can't edit documents. If you need to edit a document you have to do so in the app in which the document is stored.
How can businesses benefit?
If you don't use cloud storage services this app won't do much for you. However if you're among the millions of users that have accounts with multiple cloud storage services, the Documents app will be beneficial in helping you access and manage files on the go. Another really positive element that many businesses owners will like is that the app is free. Documents also allows you the option to password protect files.
How do I get the app?
Documents is available on the Apple App Store. Once you have downloaded the app onto your iPad, start it up and you'll be able to add your cloud services by clicking on Network (located on the left-hand menu) and selecting the services you use. Input your account information and you should be ready to go.
If you would like to learn more about Documents, or how the iPad can fit into your business, get in touch with us. We are happy to sit down with you and tell you more!
Published with permission from TechAdvisory.org. Source.