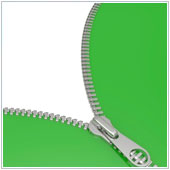 Do you need to share large files on a regular basis? Tired of struggling with attaching files to email and running afoul of attachment size limits? Several options exist to shrink the size of your files, using programs that compress the information in them.
File compression, or zipping, is the process of combining computer files and shrinking them into a single, smaller package. Compression programs do this by analyzing the redundant information in your files, and paring that data down to one list that all of the files in the compressed file can use. For a brilliant, in-depth explanation of how zipping works, check out this article on HowStuffWorks.
As with most common application types, there are hundreds of choices of zip programs. Here are five of the best:
WinZip
WinZip is the most popular compression/decompression program among PC users. The latest version of WinZip, WinZip 16.5, allows users to zip and send files via email using a program named YouSendIt. YouSendIt uploads files to a server and then allows the user to share a link via email from which recipients can download the file. The program is easy to use. Just open it up, select the files you wish to zip, and the program will help you to compress the files. Decompression is as easy as double clicking on the zipped file (.zip). WinZip also allows you to encrypt compressed files. The program has a free trial, but will cost around USD$30.00 for a full version. Available for Mac and Windows.
WinRar
The second most popular compression program for Windows is WinRar. RAR files are another popular form of compression container used by Windows users for archiving purposes. WinRar offers a higher compression ratio than WinZip, which means the output zipped files will be smaller. WinRar comes with other tools, such as a RAR archive repair and strong file encryption. Like WinZip, the tool has a free trial, but then costs around USD$29.00 per user, with discounts for multi-user licenses. WinRar is available for Windows.
PeaZip
Looking for a free compression program that has an easy to navigate interface and supports a large number of compression formats? PeaZip is a good choice that has all these features. PeaZip also offers some of the strongest encryption features compared to other compression programs, including two-factor authentication. PeaZip is available for Windows and Unix.
Stuffit
Stuffit is the go-to file compression and decompression program for Mac users who want more robust features than those offered by the built-in OS X compression program. Stuffit is similar to other zip programs, in that it opens, compresses, encrypts and can share your files. It does all this through an incredibly user friendly interface, and costs from USD$29.99. Stuffit is available for Mac and Windows.
7-Zip
If your compression needs go beyond simply compressing the odd file, and your budget doesn't allow for extra licenses, 7-Zip is the program for you. It's open-source, which means there is a solid base of experts working on constantly improving the program. As an added benefit, it's free, and fairly easy to use. You just have to get over the somewhat dated interface. (Then again, "retro" is in style now isn't it?) 7-Zip is available for Mac, Windows, Linux, Ubuntu, Command Line Interfaces and Windows Phone.
These five programs should cover all your compression needs, while allowing you to send more files, or increase available storage space. If you have any questions about compression programs, please contact us.
Published with permission from TechAdvisory.org. Source.