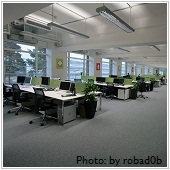 Flexibility and better connectivity are two of the major driving forces behind the new Windows Multipoint Server 2011, which sports new features including LAN / RDP support as well as support for thin clients, laptops, netbooks, and older workstations.
Cost efficiency and value are some of the major concerns many businesses – especially small ones – have these days. It is essential for small businesses to be able to minimize expenses while keeping productivity and quality up to standards.
Microsoft's Windows Server systems have always been designed with this concern in mind. And with the new version of Windows Multipoint Server, better and improved features are designed to enable businesses to be more flexible in the way they use Windows products while keeping costs to a minimum.
What's different this time around? For one, while we always recommend using the latest systems, Windows Multipoint Server 2011 accommodates older systems – so if you still have some older workstations you haven't been able to upgrade just yet, you can still squeeze some more productivity from them until you can upgrade. Windows Multipoint Server 2011 also supports thin clients (computers that depend on a server for the majority of their calculations), laptops, and netbooks using the regular LAN network – among other methods.
Another new feature of the new Multipoint Server is that it can be backed up by Windows Small Business Server Essentials, and it also provides better connectivity with Windows Small Business Server 2011 and Windows Home Server 2011. Through Windows Multipoint Server 2011, administrators can also view and interact with station desktops connected to it.
If you want to know more about the new Windows Multipoint Server, please give us a call and we'll be happy to sit down with you and discuss how it can improve the way you do business.
Published with permission from TechAdvisory.org. Source.