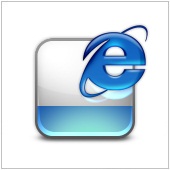 If you are using Internet Explorer and Windows 7, you may have noticed that when you mouse over an IE browser window, a preview of the open tabs in the browser is shown. While this is useful to give you an idea of the sites you have open, it can get annoying if you have multiple tabs open at the same time. If you would prefer to disable this feature, you can.
Just go to Tools > Internet Options (in the upper right-hand corner of the browser) and then click on the "Settings" button in the window that pops up. In the list of Tabbed Browsing Settings, uncheck "Show previews for individual tabs in the taskbar." Click on OK and you should be good to go.
Published with permission from TechAdvisory.org. Source.