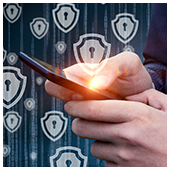 As the use of Voice over Internet Protocol (VoIP) phones becomes more widespread, so do the security threats that target VoIP, such as theft of service. This threat is the most common type being used by cybercriminals today. Let's examine how it affects your VoIP network and the preventive measures to counter it.
What is theft of service?
Internet-based phone systems are far more vulnerable to fraud compared to traditional telephony services. VoIP calls face threats ranging from identity theft, eavesdropping, intentional disruption of service, and even financial loss. Theft of service, the most common type of VoIP fraud, includes stealing usernames, passwords, and account information. Hackers usually introduce malware into your system to crash it or steal user passwords.
From a legal standpoint, theft of service means obtaining service from an individual or a company without payment. It may involve deleting or changing invoicing records, unauthorized invoicing, or taking the property of a service provider.
Also, hackers may simply want to crash your system and will flood the network with packets of data so that callers lose access. They may also try to intercept the packets to eavesdrop on calls.
A third type of VoIP hack accesses your VoIP system and allows spammers to flood your office with promotional calls similar to junk email. This type of attack is called spam over internet telephony (SPIT). Once they infiltrate your communications system, they might broadcast unsolicited messages, advertisements, or other commercial messages over your VoIP.
The solution
Defending against theft of service requires nothing new or unusual, aside from a little common sense and technical preventative measures.
Common sense measures involve making your passwords as secure as possible and preventing unauthorized physical access and use of your VoIP phone instruments. The technical stuff? Keeping your antivirus software up to date and combining it with fraudulent call routing detection and encryption software.
VoIP has become an essential business communication tool, so it makes perfect sense to understand exactly what theft of service is to avoid its negative impact. We'd be more than happy to give you advice on implementing any of these protections or managing your VoIP services. Give us a call to get started.
Published with permission from TechAdvisory.org.
Source.