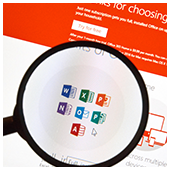 Collaboration, file sharing, and data management are made easier with Office 365. You can use its apps anytime, anywhere, and on any device, but do you really need all the features of the fully fledged subscription plan, or is a smaller package a better fit for your business? We've provided a list of the different features of each O365 plan to help you make the right choice.
Business or Enterprise
Office 365 Business and Enterprise are the obvious choices if you're running cloud-based business systems. Both of these plans will give you access to the data management app Office Online and file hosting service OneDrive, but there are some notable differences between the two.
Office 365 Enterprise E3 and E5 plans have unlimited archive and mail storage space, while Business plans have a 50 GB storage limit. Furthermore, Business plans don't provide archive access from the Outlook client.
In terms of SharePoint, a collaborative platform and document and storage system, Business plans are short on enterprise search, Excel services, and Visio — a diagramming and vector graphics app — features. They also lack in unified communication solutions, such as Power BI, an interactive data visualization tool, and Delve Analytics, which provides real-time work analytics to businesses.
With these points in mind, it may seem like Enterprise subscriptions are superior — and in some ways, they are — but Business plans are more suited for smaller companies running on a tight budget. Office 365 Business and Business Premium cost $10 and $15 per user per month, respectively, while the highest-end Enterprise plan costs $35 per user per month.
As a general rule, only consider subscribing to the Enterprise plans when your employee headcount exceeds 50 people and users require more storage space solutions. Otherwise, business plans are the perfect choice for you.
E1, E3. or E5?
Once you've decided to go for the Office 365 Enterprise plans, you need to choose which plan (E1, E2, or E5) suits your business requirements.
E1 offers basic solutions, such as Outlook, Word, OneNote, PowerPoint, and Excel for only $8 per month. It also provides access to SharePoint Team sites, video conferencing, and Yammer for social media for businesses.
E3, on the other hand, provides all E1 features together with data loss prevention, rights management, and encryption to ensure your business's security and compliance.
Lastly, E5 is a full enterprise-grade solution with all the aforementioned features plus analytics tools, advanced threat protection, flexible Skype for Business conferencing, and unified communications solutions.
Small- and medium-sized businesses often select either E1 or E3 and subscribe to third-party applications for their cloud security and VoIP needs. But if you have the resources and prefer a single provider to manage your suite, the E5 plan is the way to go.
Migrating to Office 365 is not an easy task, and if you're still undecided about which plan to opt for, contact us today. We won't just provide Office 365; we'll also assess your business to find the best plan that fits your budget and business goals.
Published with permission from TechAdvisory.org.
Source.