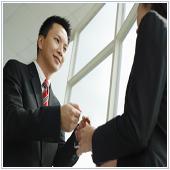 One business tool that's been slow to keep up with technology is the business card. If you were to look around your office there's a high probability you have an abundance of them. A problem starts to arise when we get too many, it becomes easy to lose an important card. Users of Microsoft Office 365 have a solution: they can use Outlook to store and create electronic business cards.
Here's how to create and share an electronic business card:
Create an Electronic Business Card
Open Outlook and select Contacts followed by Home. Click on New Contact.
When the Contact window opens, press Business Card and the Edit Business Card window will open.
You will be able to enter contact information into the relevant areas under the Fields box.
If you want to add an image or change the layout of the business card, press the Layout button located in the right side of the screen.
When you have entered the information, press Ok and the business card will be saved as a .vcf file which is readable by most email clients.
Add an Electronic Business Card to an Email
If you have saved a contact's information as a business card, you can easily attach the card to an email.
In a message select the Contacts pane and search for the business card you would like to attach. When you find it, click it.
Select the Home tab, followed by Forward Contact. A drop-down menu will open, select As a Business Card.
You will see the business card as an attachment in the email.
Add a Business Card as a Signature
You can add a business card to your signature in any email.
When you create an email message click Signature and select Add signature.
Select the signature you would like to use, if you have one. If not, press anywhere in the white space below Edit signature.
Click Business Card beside the paragraph alignment buttons in the Edit signature field.
Select the contact name you use and press Ok. Your contact information will show up at the bottom of the email as a downloadable .vcf file.
If you're a user of Office 365 and would like to learn more, or would like more information on Office 365 or other products, please give us a call.
Published with permission from TechAdvisory.org. Source.